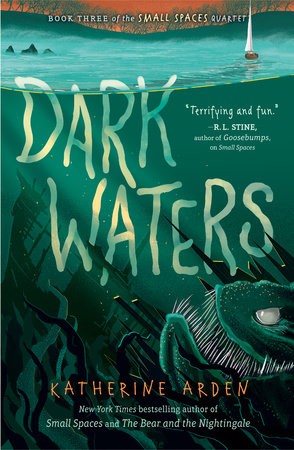 Dark Waters
Small Spaces Quartet, Book Three
Until next time. That was chilling promise made to Ollie, Coco and Brian after they outsmarted the smiling man at Mount Hemlock Resort. And as the trio knows, the smiling man always keeps his promises. So when the lights flicker on and off at Brian's family's inn and a boom sounds at the door, there's just one visitor it could be. Only, there's no one there, just a cryptic note left outside signed simply as —S.

The smiling man loves his games and it seems a new one is afoot. But first, the three friends will have to survive a group trip to Lake Champlain where it's said Vermont's very own Loch Ness monster lives. When they're left shipwrecked on an island haunted by a monster on both land and sea, Brian's survival instincts kick in and it's up to him to help everyone work together and find a way to escape.

One thing is for sure, the smiling man is back and he wants a rematch. And this time Brian is ready to play.
Signed Editions
I've partnered with Pheonix Books in Burlington Vermont to make alternate editions of my books available for purchase. View the full selection of available signed, world, and special editions on their website.

For more info, be sure to check my Frequently Asked Questions or contact me for assistance.
Small Spaces Quartet
Set in contemporary Vermont, the Small Spaces Quartet is the story of three friends who face a series of horrifying games and schemes dreamed up by an ancient evil called the Smiling Man. Each book is attached to a season. We begin in the fall with Small Spaces, continue into a haunted winter with Dead Voices, move into a monstrous spring with Dark Waters and finally a terrifying summer with Empty Smiles.
Wherever you go in this big, gorgeous, hideous world, there's always a ghost story waiting for you