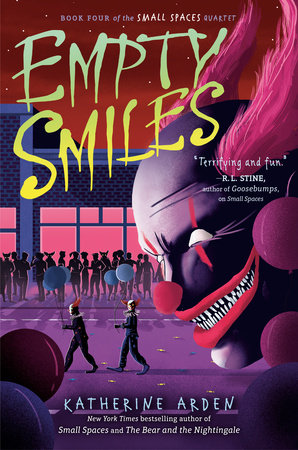 Empty Smiles
Small Spaces Quartet
It's been three months since Ollie made a daring deal with the smiling man to save those she loved, and then vanished without a trace. The smiling man promised Coco, Brian and Phil, that they'd have a chance to save her, but as time goes by, they begin to worry that the smiling man has lied to them and Ollie is gone forever. But finally, a clue surfaces. A boy who went missing at a nearby traveling carnival appears at the town swimming hole, terrified and rambling. He tells anyone who'll listen about the mysterious man who took him. How the man agreed to let him go on one condition: that he deliver a message. Play if you dare.
Game on! The smiling man has finally made his move. Now it's Coco, Brian, and Phil's turn to make theirs. And they know just where to start. The traveling carnival is coming to Evansburg.
Meanwhile, Ollie is trapped in the world behind the mist, learning the horrifying secrets of the smiling man's carnival, trying everything to help her friends find her. Brian, Coco and Phil will risk everything to rescue Ollie—but they all soon realize this game is much more dangerous than the ones before. This time the smiling man is playing for keeps.
The summer nights are short, and Ollie, Coco, Brian, and Phil have only until sunrise to beat him once and for all—or it's game over for everyone.
Signed Editions
I've partnered with Pheonix Books in Burlington Vermont to make alternate editions of my books available for purchase. View the full selection of available signed, world, and special editions on their website.

For more info, be sure to check my Frequently Asked Questions or contact me for assistance.
Small Spaces Quartet
Set in contemporary Vermont, the Small Spaces Quartet is the story of three friends who face a series of horrifying games and schemes dreamed up by an ancient evil called the Smiling Man. Each book is attached to a season. We begin in the fall with Small Spaces, continue into a haunted winter with Dead Voices, move into a monstrous spring with Dark Waters and finally a terrifying summer with Empty Smiles.
Wherever you go in this big, gorgeous, hideous world, there's always a ghost story waiting for you