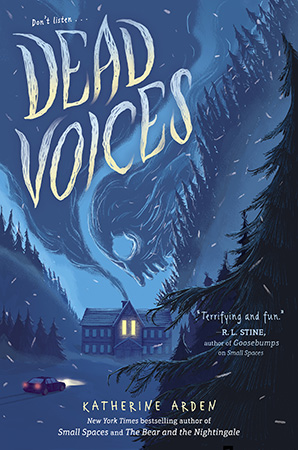 Dead Voices
Small Spaces Quartet
Starred reviews in Kirkus, Publishers Weekly, and Booklist
Junior Library Guild Gold Selection, 2020

Having survived sinister scarecrows and the malevolent smiling man in Small Spaces, newly minted best friends Ollie, Coco, and Brian are ready to spend a relaxing winter break skiing together with their parents at Mount Hemlock Resort. But when a snowstorm sets in, causing the power to flicker out and the cold to creep closer and closer, the three are forced to settle for hot chocolate and board games by the fire.
Ollie, Coco, and Brian are determined to make the best of being snowed in, but odd things keep happening. Coco is convinced she has seen a ghost, and Ollie is having nightmares about frostbitten girls pleading for help. Then Mr. Voland, a mysterious ghost hunter, arrives in the midst of the storm to investigate the hauntings at Hemlock Lodge. Ollie, Coco, and Brian want to trust him, but Ollie's watch, which once saved them from the smiling man, has a new cautionary message: BEWARE.
With Mr. Voland's help, Ollie, Coco, and Brian reach out to the dead voices at Mount Hemlock. Maybe the ghosts need their help–or maybe not all ghosts can or should be trusted.Dead Voices is a terrifying follow-up to Small Spaces with thrills and chills galore and the captive foreboding of a classic ghost story.
Praise for Dead Voices
Vividly eerie descriptions evoke the very best of horror for this age set. Genuinely bone-chilling. - KIRKUS, STARRED REVIEW read full review
Arden excels at creating an atmosphere of claustrophobic tension with memorably menacing details. - PUBLISHERS WEEKLY, STARRED REVIEW read full review
Middle-graders who thrill to spooks and scares will find plenty (maybe even more than they bargained for!) here. - BOOKLIST, STARRED REVIEW read full review
Signed Editions
I've partnered with Pheonix Books in Burlington Vermont to make alternate editions of my books available for purchase. View the full selection of available signed, world, and special editions on their website.

For more info, be sure to check my Frequently Asked Questions or contact me for assistance.
Small Spaces Quartet
Set in contemporary Vermont, the Small Spaces Quartet is the story of three friends who face a series of horrifying games and schemes dreamed up by an ancient evil called the Smiling Man. Each book is attached to a season. We begin in the fall with Small Spaces, continue into a haunted winter with Dead Voices, move into a monstrous spring with Dark Waters and finally a terrifying summer with Empty Smiles.
Wherever you go in this big, gorgeous, hideous world, there's always a ghost story waiting for you