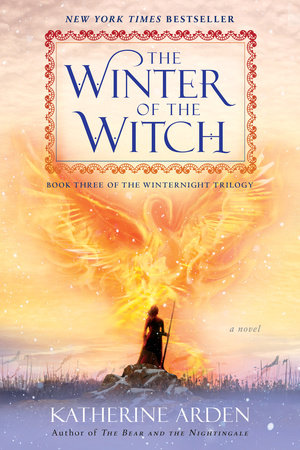 Historical Fantasy
The Winter of the Witch
Winternight Trilogy, Book Three
Starred review in Publishers Weekly
Starred review in Kirkus
Indie Next pick, January 2019
Library Reads pick, January 2019
Reviewers called Katherine Arden's novels The Bear and the Nightingale and The Girl in the Tower "lyrical," "emotionally stirring," and "utterly bewitching." The Winternight Trilogy introduced an unforgettable heroine, Vasilisa Petrovna, a girl determined to forge her own path in a world that would rather lock her away. Her gifts and her courage have drawn the attention of Morozko, the winter-king, but it is too soon to know if this connection will prove a blessing or a curse.
Now Moscow has been struck by disaster. Its people are searching for answers—and for someone to blame. Vasya finds herself alone, beset on all sides. The Grand Prince is in a rage, choosing allies that will lead him on a path to war and ruin. A wicked demon returns, stronger than ever and determined to spread chaos. Caught at the center of the conflict is Vasya, who finds the fate of two worlds resting on her shoulders. Her destiny uncertain, Vasya will uncover surprising truths about herself and her history as she desperately tries to save Russia, Morozko, and the magical world she treasures. But she may not be able to save them all.
Praise for The Winter of the Witch
A striking literary fantasy informed by Arden's deep knowledge of and affection for this time and place. A satisfying conclusion. - KIRKUS REVIEWS read full review
Arden's gorgeous prose entwines political intrigue and feminist themes with magic and folklore to tell a tale both intimate and epic. - PUBLISHERS WEEKLY read full review
Signed Editions
I've partnered with Pheonix Books in Burlington Vermont to make alternate editions of my books available for purchase. View the full selection of available signed, world, and special editions on their website.

For more info, be sure to check my Frequently Asked Questions or contact me for assistance.
Fairy tales are sweet on winter nights, nothing more